Sunday Bulletin April 8th 2018
Prelude All Hail the Power of Jesus' Name, Bennett Paula Chatman
Introit Waitin' for the Mornin, Choplin Chancel Choir
Welcome Rev. Jason J. Nelson
*Hymn of Praise, UMH No. 322 Up From the Grave He Arose
*Apostles Creed, No. 881 (UMH) Lay Reader
*Gloria Patri, No. 70 (UMH)
Announcements Rev. Jason J. Nelson
*Song of Praise We Walk by Faith
1. We walk by faith, and not by sight: No gracious words we hear of him who spoke as
none e'er spoke, but we believe him near.
2. We may not touch his hands and side, nor follow where he trod; yet in his promise
we rejoice, and cry, "My Lord and God!"
3. Help then, O Lord, our unbelief, and may our faith abound; to call on you when you
are near, and seek where you are found:
4. That when our life of faith is done in realms of clearer light we may behold you as you
are in full and endless sight.
5. We walk by faith, and not by sight: No gracious words we hear of him who spoke as
none e'er spoke, but we believe him near.
*Scripture Reading John 20:19-29 Lay Reader
Anthem Waitin' for the Mornin,'Choplin Chancel Choir
Children's Sermon (10:45 am)
(10:45 am: Children ages 3-2nd grade may join us for Children's Church, Room 106).
Offertory I Stand Amazed Paula Chatman
*Doxology, No. 95 (UMH)
Sermon Raised to Life: Surprise! Rev. Jason J. Nelson
The Lord's Prayer/Lord's Supper
*Hymn of Invitation, (UMH) No. 706 Soon and Very Soon
*Benediction Rev. Jason J. Nelson
*Sending Forth Lord, I Lift Your Name on High
Lord, I li
your name on high; Lord, I love to sing your praises. I'm so glad you're in my
life; I'm so glad you came to save us. You came from heaven to earth, to show the way,
from the earth to the cross my debt to pay; from the cross to the grave, from the grave
to the sky; Lord, I li
your name on high.
Postlude I Must Tell Jesus Paula Chatman
*Please stand as you are comfortabl
Whether you have just moved to the area or are looking for a new church home, we would love to help you find the answers you are looking for. The RHUMC family is committed to being disciples of Jesus Christ for the transformation of the world to the glory of God. We want to do everything possible to achieve this task as we share the joy, the hope, and the power of God's Love and Grace. It won't take you long to discover that this is truly a family, rich in the relationships with people of all ages and backgrounds. Growing together we worship, we serve, we learn, and we reach out to the world with life transforming Love thru the Truth of our Savior Jesus Christ. Come and see the Love of Christ in action! We look forward to seeing you Sunday, and pray you leave renewed and ready to carry Christ's love into the world!
Please visit our website often to stay up-to-date with news and events at RHUMC.
We will welcome you at our Sunday services:
8:30 in the Historic Sanctuary
9:30 Children/Youth and Adult
Sunday School Classes
10:45 in the Faith Center
GET INVOLVED IN ROSE HILL'S MINISTRIES

MEN'S MINISTRY
Our mission is to support spiritual growth among men, helping men to mature as disciples as they encourage spiritual formation in each other with the goal of empowering the ministry of Jesus Christ through men within our congregation.

WOMEN'S MINISTRY
United Methodist Women shall be a community of women whose purpose is to know God and to experience freedom as whole persons through Jesus Christ; to develop a creative, supportive fellowship; and to expand concepts of mission through participation in the global ministries of the church.

YOUTH MINISTRY
Our youth at Rose Hill UMC are engaged with fun, and exciting activities that build character, friendships and most of all fosters a growing relationship with our Savior, Jesus Christ!

CHILDREN'S MINISTRY
Rose Hill United Methodist Church has an active and growing children's ministry program. We understand the importance of giving children an opportinity to grow in their faith and share fellowship opportunities with other children, make new friends and learn about Christ. We offer many fun, age appropriate opportunities for children of all ages.

MISSION MINISTRY
As the hands and feet of Jesus, we are called to reach out to those in need around us. We consider the Tomball, Cypress, and Magnolia areas our mission field as we try to share the love of God through our helping others. Some examples include Faith-In-Action, UMCor, T.E.A.M., Big House as well as others. Come learn how you can be a part of changing the world around us.

ADULT SUNDAY SCHOOL
Come and join us for an opportunity to experience how we may find the Truth through scripture. Our class invites everyone to join in our study of scripture that enlightens, educates and motivates each of us to be the disciple we can be as we discern how we are called to serve our Lord and Savior. Our study is open and lively with discussion that invokes open thought and conversation in our search.

MUSIC MINISTRY
The music ministry of Rose Hill UMC maintains the rich musical heritage of Methodism. Musical experiences and training are offered to all age levels so that gifts will be developed and the church will sing and pray the story of God's redemptive act in Christ both now and in the future.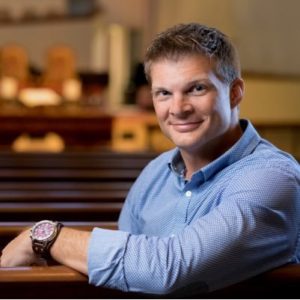 Growing up in Wisconsin, Jason loved two things: Jesus and football. He accepted Christ into his life at the age of 6 and was baptized in Lake Michigan at age 19. Raised in the Church of the Nazarene as a pastor's kid, Jason grew up singing in the church where his mom played the piano, his grandmother played the organ, and his grandfather directed the choir.
Jason went to Trinity International University in Chicago on a football scholarship, and, after graduating with a B.A. in Social Science, Jason attended the graduate school at TIU. The coach convinced him to play another year since he had red-shirted as a freshman. At the end of that year, Jason received an M.A. in Faith and Culture.
In 2001, Jason moved to the Promised Land (Texas) and began a brief career in teaching. He taught 8th grade U.S. History, was a Social Studies Department Chair, and coached football, basketball, and track. During that time, Jason earned an M.Ed in Curriculum and Instruction at Houston Baptist University. In 2007, Jason answered the call into ministry. That year he joined the staff at Christ United Methodist Church in Sugar Land. Because neither of his graduate degrees were a Master of Divinity, Jason started commuting from Houston to Dallas to attend Perkins School of Theology at SMU part-time and served as executive director of discipleship. Once he became a pastor, he helped Christ Church start the hub, a modern worship service. Jason preached weekly at this vibrant service, which saw tremendous growth in just three years.
Jason joined the pastoral staff at The Woodlands UMC in 2013 where he preached frequently in both traditional and contemporary services. At TWUMC, Jason also began writing and publishing church wide studies, which are currently available on rightnowmedia.org. He also completed his Master of Divinity in 2013 to add to his B.A., M.A. and M.Ed. An ordained elder in the United Methodist Church, Jason is currently a Ph.D. in theology candidate at the University of South Africa, writing within the fields of evangelism and missiology as a PolyCarp Community Fellow.
Jason has four precious children (Hannah, Madeline, Olivia and Brooks) who bring so much joy to his life.
To get to know Jason better, you can visit his website at www.revjasonjnelson.net
Request Prayer
If you are currently not receiving prayer requests via email and would like to receive them so you, too, can be a part of this prayer ministry from the privacy of your home or business and/or if you would like to request prayers for yourself or others please send your request to: office@rosehillumc.org. Also please include your email address with the request.
Sermons & Service Recordings
Apr 22, 2018

Define Church: Apostles' Teaching

Apr 15, 2018

Raised To Life: Road To Nowhere

Apr 8, 2018

Raised to Life: Surprise!

Apr 1, 2018

People of the Resurrection: The Living Christ

Mar 25, 2018

I Know Nothing

Mar 18, 2018

What a Day!

Mar 4, 2018

Wild at Heart!

Feb 25, 2018

What an Entrance!

Feb 18, 2018

Dining with Jesus

Feb 11, 2018

When Jesus Comes To Town
VBS 2018 is Coming Soon!
Our Children's Ministry is gearing up for VBS. It's just around the corner and we couldn't be more excited. The theme is "Shipwrecked" where we will "venture onto an uncharted island where kids are rescued by Jesus! Anchor kids in the truth that Jesus carries them through every storm in life. They'll learn to hold onto God's promises when they are lonely, they worry, they struggle, do wrong, and feel powerless." REGISTRATION IS OPEN!
Heart-to-Heart Bible Study
Our Lent study is Jesus' Journey to the Cross. We meet every Wednesday from 10 am to 11:30 am. Check out the
Women's Ministry
for more info.
Faith In Action
April 21st – 22nd are the dates for this year's FIA! This is a great opportunity to reach into our community to be the hands and feet of Jesus! There are opportunities for handyman type work, knitting/crochet and service projects for people in our community and in the military. Safe Sanctuary training required. If you have a project to add or for questions contact the office at (281) 351-5356.
Women's Retreat
April 29th from 12-4pm in the Fellowship Hall! Get more info and register
here
!
Rose Hill United Methodist Church
21022 Rosehill Church Rd
Tomball, TX 77377
Sunday services:
• 8:30 in the Historic Sanctuary
• 9:30 Children/Youth and Adult Sunday School Classes
• 10:45 in the Faith Center
Weddings
At Rose Hill UMC we absolutely love weddings! There is very little that outshines a bride on her wedding day. In 1st John 4:16 the bible says "And so we know and rely on the love God has for us. God is love. Whoever lives in love lives in God, and God in them." Marriage is such a beautiful manifestation of God's love for us. We would cherish being a part of your special day. If you are looking for a picturesque setting that has country charm and warmth, then this is your church. Our historic sanctuary built in 1875 is perfect for an intimate wedding that you and your guests will never forget. The Faith Center is a great space for larger weddings. The fellowship hall is only a few steps from the sanctuaries and is setup to handle your reception flawlessly. Just check out some of our photos!
About weddings
The maximum occupancy for the historical sanctuary is 80
Rose Hill UMC pastor is $250
(You are welcome to supply your own you must submit their name and contact info to our pastor no less than 7 days prior to the ceremony)
All facility rentals are alcohol free
Rental is for a period of 1.5 hours before the ceremony extending 1.5 hours after the ceremony and includes rehearsal of 1.5 hours. If time extends beyond that an add'l fee will apply of $50 per 30 minutes
Historical sanctuary rental is $550 plus the cost of the wedding coordinator
Faith center rental is $750 plus the cost of the wedding coordinator
Rose Hill wedding coordinator $450 for rehearsal and ceremony, Additional $250 for reception at Fellowship Hall
Fellowship Hall rental is $450 (3 hour limit)
Musician (Piano) $200
includes Rehearsal
Vocalist $200 in
cludes Rehearsal
Sound $200 includes Rehearsal
Non refundable deposit of 50% of the rental fee is due upon receipt of the signed agreement
Remaining balance due on the rental, the Rose Hill UMC wedding coordinator, the accompanist, the vocalist and custodial fee must be paid on or before the rehearsal date.
All Rose Hill UMC members receive 33% discount on all of the facility rentals listed above