Our Community is Our Mission
As Methodists, our mission is to make disciples of all nations. The Vision statement of our church reads:
"Rooted in Scripture; Growing in Faith; Sharing His Love; Strengthening our Community"
9/5/2017 Harvey Ministry Update: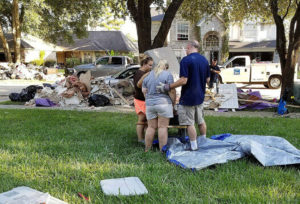 Bishop Scott Jones expresses a heart-felt thank you to all who have stepped up and offered assistance to those in need. This recovery is going to take a lot of time and effort and there will be many opportunities to help our neighbors in the future.
Informational video about volun
teering after a flood:
Disaster Relief for AmeriCorps is deploying teams to Houston. Below is information about them.
Flood buckets are in high demand. These supplies are such a blessing to homes that just don't know where to start.
Rosehill Elementary School
We feel lead as a church to strengthen our community as a mission outreach. We feel especially lead to provide support to Rosehill Elementary School that is just down the street. Through gathering supplies for kids and providing lunches for the teachers and administrators we lift them up with all we do.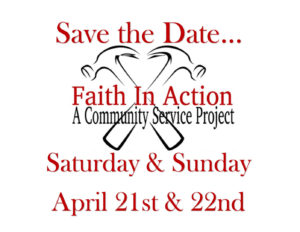 FAITH IN ACTION
2018 allows us to see the results of our hard work immediately – and it makes us more aware of how important and fulfilling it is to serve our neighbors. It makes us more appreciative when we share Christ's love. JOIN US for a weekend of hard work, service, prayer, and community! Remember, the more hands we have, the more people we can serve. The weekend of April 21-22 has been designated for Faith In Action. You can sign up for either or both days. Breakfast and lunch is provided both days.
A table has been set up in the narthex with informational brochures listing projects and times along with registration forms. Registration forms need to be placed in the "IN" box on the table ASAP. Tomball UMC asks that you only check those days and projects for which you are interested in volunteering. A Safe Sanctuary certification is required. You can complete the certification online at http:/www.txumc.org/safesanctuary and submit the certificate with your registration form. Jessica McMullen will be holding an in-house certification course within the next month if you prefer to qualify that way. If you have completed Safe Sanctuary within the last 2 years, you need not do it again, but be sure that Jessica McMullen or Lana Bowsher has you on the list of certified individuals.
If you are a knitter or crocheter, Operation Gratitude has an "in advance" activity of making scarves for military care packages. Instructions are on the FIA table along with some yarn. There is also a wish list of items that you can donate and a basket marked "Operation Gratitude" in which to place them.
If anyone needs help with something at your home or if you know of anyone needing assistance, you can get in touch with Tomball UMC church office (281/351-1249) and they will add it to the list of projects under consideration. If you know of any homebound folks who would like to receive a meal that weekend, please contact the Tomball UMC church office to be added to that list.
Please check the FIA table periodically for additional information as we receive it. If you have any questions, please contact Judith Hackney or Kon Chen.
Faith in Action, Feb 2017:
Rose Hill UMC had several members participating. We joined Tomball UMC, Church of the Good Shepherd and some individuals in activities and projects aimed at helping the community. There were 20 core projects spread between 14 teams with some stand-by projects should the core projects get completed early.
First, a big thank you
to all who could not participate in person, but contributed to our "Ladder Tree." We had a great response and all items went a long way in making the weekend a success.
Activities other than repair projects included
:
Making prayer blankets
Making Teddy Bears for the police (to comfort children)
Sewing and packing hygiene pouches
Delivering meals to homebound
Delivering cookies and cards to 1st responders
Working at T.E.A.M
Working in the Tomball Community Garden
Packing manna bags.
The majority of the Rose Hill project team was assigned a project involving:
Removal & reinstallation of front door frame and damaged 2×4 studs next to door frame
Repairing floor at entry
Removal & reinstallation of storm door
Installation of awning above entry door
Replacing damaged 4" x 6' pickets on back fence
Repairing leaking fixtures in bathroom
Several other small repair jobs.
Some members were assigned to other teams. We had a wonderful time working with new friends. One project involved painting the carport front porch; installing and painting railing next to the entry stairs; replacing the rotted flooring in the utility room; replacing the water heater; and other minor repairs.
It was a beautiful weekend and a lot was accomplished being God's hands and feet in the world.
Faith in Action, April 2016:
The Rose Hill UMC Mission Team in partnership with Tomball UMC performed construction work and repairs to many homes for a local families in need. Our assignment was to repair floors, build a closet, put in a back door with steps, hang three doors, lay vinyl plank flooring and build a cover for the front porch. The family was awesome and on the second day working on their home, we learned that the husband was veteran of two tours in Iraq with the 2nd Marine Division and is a Purple Heart recipient. We were all so blessed and honored to do the work we did for such a wonderful hard working family and then to learn it was for a veteran also, we were all so humble
Summer:
Pastor Webb lead another team of 30 individuals (10 from RHUMC & 20 from Montgomery UMC) back out to 4-Corners to work with the Navajos in Window Rock, AZ. The team stayed at the Window Rock UMC. Construction work and repairs were performed on a couple of the church facilities while a separate group built a wheel chair ramp. All the cost for construction was paid for through church member donations and a grant from the Texas Annual Conference. Several members of the team also conducted a Bible School for children from the church and surrounding neighborhoods
Summer 2014
Our team of 8 led by Pastor Bob left early on Fathers Day headed to Miami, OK to assist in the refurbishing of an old church in the Cherokee Indian nation that will serve a new congregation of believers after years of setting idle awaiting a on the Holy Spirit to give it life once more and all to the glory of the Father! Keep our mission team in your thoughts and prayers as they share in fellowship and witness to our Native American Brothers and Sisters in Christ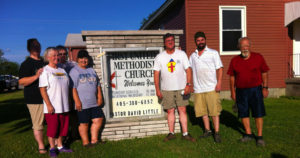 Request Prayer
If you are currently not receiving prayer requests via email and would like to receive them so you, too, can be a part of this prayer ministry from the privacy of your home or business, etc., please send your email address or multiple addresses to:
You may request prayers for yourself or others by sending your requests to
.