Our Community is Our Mission
As Methodists, our mission is to make disciples of all nations. The Vision statement of our church reads:
"Rooted in Scripture; Growing in Faith; Sharing His Love; Strengthening our Community"
Rosehill Elementary School
We feel lead as a church to strengthen our community as a mission outreach. We feel especially lead to provide support to Rosehill Elementary School that is just down the street. Through gathering supplies for kids and providing lunches for the teachers and administrators we lift them up with all we do.
Blood Drives
Twice a year we host the Gulf Coast Regional Blood Center for a blood drive. This service to our community we hope has a real and direct impact and shows the Love of Christ through our giving.
FAITH IN ACTION
2018
RHUMC had 28 participants. Along with Tomball UMC and Church of the Good Shepherd, we took care of 13 work sites, produced 10,152 bags for Rise Against Hunger; provided 48 gifts to nursing home residents; sang to residents at Harvest Home; delivered 32 meals/desserts to home bound individuals; created and decorated 121 stuffed animals for first responders; decorated 415 cookies for first responders; provided 6 boxes to Operation Gratitude; and provided 36 Manna Bags.
9/5/2017 Harvey Ministry Update: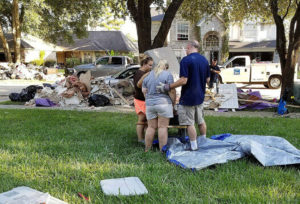 Bishop Scott Jones expresses a heart-felt thank you to all who have stepped up and offered assistance to those in need. This recovery is going to take a lot of time and effort and there will be many opportunities to help our neighbors in the future.
Informational video about volun
teering after a flood:
Disaster Relief for AmeriCorps is deploying teams to Houston. Below is information about them.
Flood buckets are in high demand. These supplies are such a blessing to homes that just don't know where to start.
Summer:
Pastor Webb lead another team of 30 individuals (10 from RHUMC & 20 from Montgomery UMC) back out to 4-Corners to work with the Navajos in Window Rock, AZ. The team stayed at the Window Rock UMC. Construction work and repairs were performed on a couple of the church facilities while a separate group built a wheel chair ramp. All the cost for construction was paid for through church member donations and a grant from the Texas Annual Conference. Several members of the team also conducted a Bible School for children from the church and surrounding neighborhoods
Request Prayer
If you are currently not receiving prayer requests via email and would like to receive them so you, too, can be a part of this prayer ministry from the privacy of your home or business, etc., please send your email address or multiple addresses to:
You may request prayers for yourself or others by sending your requests to
.