Since 1875, many families have called Rose Hill United Methodist Church their home. We are a generational church with a great heritage, filled with countless stories highlighting the faithfulness of God. Our church also has a great future ahead of us. We are a growing church serving a growing community. If you're looking for a church home, join us this Sunday.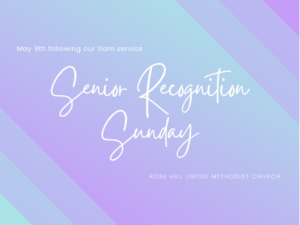 Senior Recognition Sunday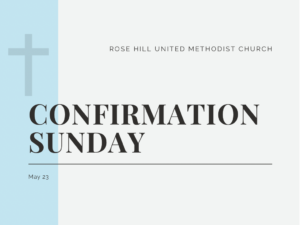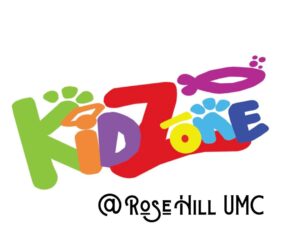 Children's Sunday School
is at 9:45 am. Children's Church is at 11:00 am.
For more info, contact Pastor Julie Paulick at
jpaulick@rosehillumc.org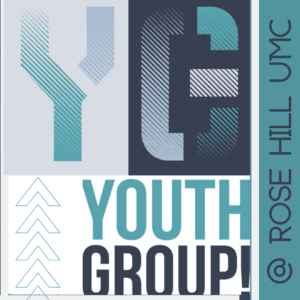 Calling all youth to join the Youth Group on Wednesdays at 6:30 pm in the HUB. C
ontact Pastor Julie Paulick at jpaulick@rosehillumc.org to get connected.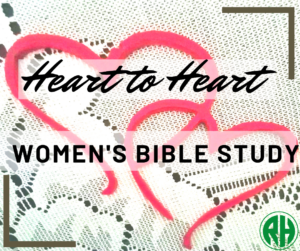 Heart to Heart Women's Bible Study meets on Wednesdays, 10am in the Faith Center. They are studying Set Apart by Jessica LaGrone.
Contact Paula Chatman at
pchat05@yahoo.com
to join.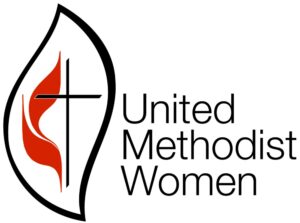 United Methodist Women meets on Tuesdays at 7:00 pm via Zoom, and is studying The Women of Easter. The group has their monthly meeting on the second Thursday at 7:00 pm in the Faith Center.
Contact Sharon Cook at SHCook56@yahoo.com for more information.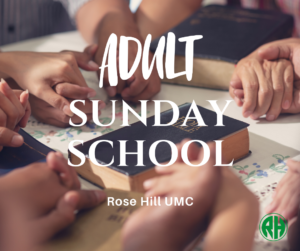 The Searchers Class gathers on Sundays at 9:45 am in the Library. They are studying Prayers of the New Testament by Lynne M. Baab. Contact Brad Bowsher at bb0hdcp@aol.com for info.
The New Horizons Class meets at 9:45 am in the Fellowship Hall and is studying the book of Revelation. Contact Penny Lucas at pennylynndale@att.net.
Dear Rose Hill Church Family,
WORSHIP
We hope you will be able to worship with us on Sunday as we continue our sermon series called, Kingdom of God. This week we will look at the People of the Kingdom. The concept of the Kingdom of God is a central theme throughout Scripture and is one of the most theologically profound mysteries of our faith. Over the next few weeks, with the guidance of the Holy Spirit, we are going to explore the person, proof, principles, practices, power, and people of the Kingdom of God. I pray that through this sermon series we will better understand the features of the Kingdom of God and its presence in our lives today. The scripture reading is Colossians 1:9-14.. The Sunday Worship Bulletin can be found here.
After the 11:00 service, we hope you can join us in the Faith Center Gathering Area for some cake to celebrate our high school graduate, Morgan Fernandez.
8:30 am – Traditional Worship in the Chapel (Masks Required)
9:45 am – Live on Facebook
9:45 am – Sunday School
11:00 am – Traditional Worship in Faith Center (Masks Recommended) *
* We ask that you wear masks upon entry and exit of the worship space
Sunday School for children is 9:45 am, in two rooms:
Age 3 (potty-trained) through 1st grade with Miss Jennifer as the lead teacher
2nd grade and older with Miss Christina as the lead teacher
Children's Church is 11:00 am. Children begin church with their parents, and then are invited to go with Pastor Julie to the Children's Church Room. Nursery is available from 8:30 am – Noon.
Youth Group meets for Sunday School at 9:45 am. On Wednesdays they gather at 6:30pm in The HUB.
Heart to Heart Women's Bible Study meets on Wednesdays at 10 am in the Library.
United Methodist Women meets every Tuesday at 7 pm via Zoom.
Read the Bible in 90 Days!
How are you doing on your reading? It's an aggressive schedule, isn't it? Even if you've fallen behind, don't lose heart — any amount of reading is the real goal! I encourage you to keep up the good work! God's Word always blesses us and provides wisdom and guidance for our daily living.
CONNECT
Prayer is Powerful!
In 2021, as a church, we are committed to praying more than ever before! I invite you to join our Prayer Team Ministry.
You are also encouraged to continue to submit your Prayer Requests so we can pray collectively.
This is the confidence we have in approaching God: that if we ask anything according to his will, he hears us. ~ 1 John 5:14
GIVE
Our tithes and offerings help empower us to reach out in love to our community and the world. Envelopes and the box for Giving are in the Faith Center Gathering Area. You can also give by going to our website Give page and select "General Fund."

2021 Budget $400,497
Weekly Giving Goal $7,455
Received Last Week $3,710
YTD Income Goal $138,634
YTD Income Received $118,603


Come, let us bow down in worship, let us kneel before the Lord our Maker.
Rose Hill UMC | office@rosehillumc.org | 281-351-5356
21022 Rosehill Church Road, Tomball, TX, 77377
2019. Copyright. All Rights Reserved.