Since 1875, many families have called Rose Hill United Methodist Church their home. We are a generational church with a great heritage, filled with countless stories highlighting the faithfulness of God. Our church also has a great future ahead of us. We are a growing church serving a growing community. If you're looking for a church home, join us this Sunday.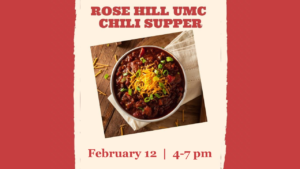 Annual Chili Supper
Saturday, February 12, 2022 | 4-7pm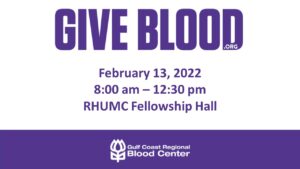 Blood Drive
Sunday, February 23, 2022 | 8 am – 12:30 pm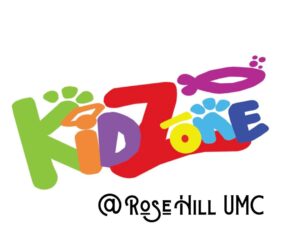 Children's Sunday School
is at 9:45 am
in two rooms:
Age 3 (potty-trained) through 1st grade meet in the Faith Center.
2nd grade and older meet in the Fellowship Hall.
Nursery is available from 8:30 am – Noon on Sundays in the Faith Center.
Children's Church is held during the 11:00 worship service in the Faith Center. Children age three who are potty-trained through grade 5 are invited to join us as we learn about Jesus.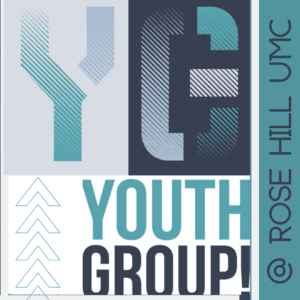 Youth Group meets for Sunday School at 9:45 am in the Faith Center. Wednesday night gatherings are at 6:30 pm in The HUB. The students in this class have a large role in determining what topics will be discussed.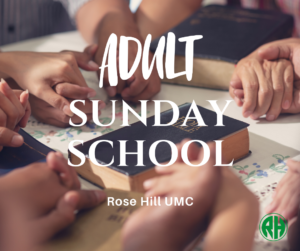 The Searchers Class gathers on Sundays at 9:45 am in the Library. Contact Brad Bowsher at bb0hdcp@aol.com for info.
The Peanut Gallery Class meets at 9:45 am in the Fellowship Hall. For more information, contact Penny Lucas at pennylynndale@att.net.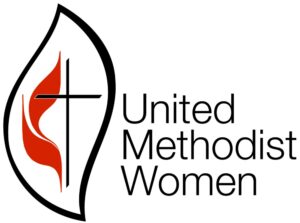 United Methodist Women meets on Tuesdays at 7:00 pm via Zoom. The group has their monthly meeting on the second Thursday at 7:00 pm in the Faith Center.
Contact Sharon Cook at SHCook56@yahoo.com for more information.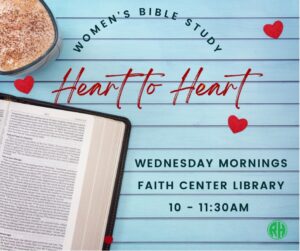 Heart to Heart Bible Study is for women of all ages from the church and the community. We believe that the Bible is the inerrant Word of God and we seek to align ourselves to it. The group meets on Wednesday mornings from 10:00 to 11:30 AM in the Faith Center Library.
Dear Rose Hill Church Family,
WORSHIP
We hope you will be able to worship with us on Sunday as we continue our sermon series called Signs of the Times: The Beginning of the End. On Sunday we will look at Here's Your Sign.
Nothing lasts forever…including life as we know it. So what has to happen before Jesus returns? Are we living in the end times now? Is Jesus coming back soon? How can we tell when the end is near? And why does it matter in the here and now? We'll begin to explore God's Word to address these questions and many more over the next several weeks.
The Scripture reading is Matthew 24:1-16; 29-31.
The Sunday Worship Bulletin can be found here.
8:30 am – Worship in the Historic Chapel
9:45 am – Youth, Children, and Adult Sunday School
11:00 am – Live on Facebook **UPDATED**
11:00 am – Worship in Faith Center
GROW
Special Revival Discussion Group
God moved powerfully during our Revival Weekend! In an effort to capture the momentum and insight gained, you are invited to meet in the War Room in the Faith Center each Sunday at 9:45 am for a time of discussion and discernment. We would love to see you there!
See details about Sunday School, Children's Church, Heart to Heart, and UMW above.
There will be a Youth Pizza Party on Sunday, January 23, at 5 pm in the Fellowship Hall. All Youth and parents are welcome!
SERVE
Interested in helping us build up our outreach ministry to those who are food insecure? The King's Pantry is in need of standup freezers and refrigerators (new or used). If you would like to donate one or more of these to the church, please contact Pastor Jason.
Blood Drive on February 13
Our semi-annual blood drive is set for Sunday, February 13, from 8:00 am to 12:340 pm in the Fellowship Hall. Appointments are preferred, but not required. If you are a digital donor, you can sign up at the Blood Center website or you can email Judith Hackney to schedule an appointment.
C
ONNECT
56th Annual Chili Supper Coming!
Mark your calendar for Saturday, February 12, 4-7 pm in the Fellowship Hall. It would be a great time to invite neighbors and friends to experience the special Rose Hill UMC fellowship — and our secret chili dish! Please sign up here if you can help by donating any items.
Meet our New Members
We welcome the new families who have recently joined Rose Hill! See them here!
This is the confidence we have in approaching God: that if we ask anything according to his will, he hears us. ~ 1 John 5:14
GIVE
Our tithes and offerings help empower us to reach out in love to our community and the world. Envelopes and the box for Giving are in the Faith Center Gathering Area. You can also give by going to our website Give page and select "General Fund."
Let us acknowledge the Lord; let us press on to acknowledge him. As surely as the sun rises, he will appear; he will come to us like the winter rains, like the spring rains that water the earth.
~ Hosea 6:3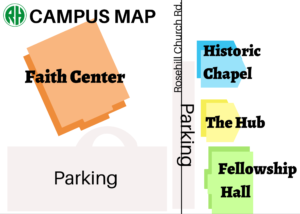 Rose Hill UMC | office@rosehillumc.org | 281-351-5356
21022 Rosehill Church Road, Tomball, TX, 77377
2019. Copyright. All Rights Reserved.