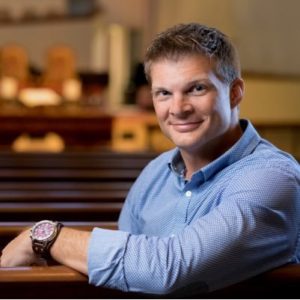 Growing up in Wisconsin, Jason loved two things: Jesus and football. He accepted Christ into his life at the age of 6 and was baptized in Lake Michigan at age 19. Raised in the Church of the Nazarene as a pastor's kid, Jason grew up singing in the church where his mom played the piano, his grandmother played the organ, and his grandfather directed the choir.
Jason went to Trinity International University in Chicago on a football scholarship, and, after graduating with a B.A. in Social Science, Jason attended the graduate school at TIU. The coach convinced him to play another year since he had red-shirted as a freshman. At the end of that year, Jason received an M.A. in Faith and Culture.
In 2001, Jason moved to the Promised Land (Texas) and began a brief career in teaching. He taught 8th grade U.S. History, was a Social Studies Department Chair, and coached football, basketball, and track. During that time, Jason earned an M.Ed in Curriculum and Instruction at Houston Baptist University. In 2007, Jason answered the call into ministry. That year he joined the staff at Christ United Methodist Church in Sugar Land. Because neither of his graduate degrees were a Master of Divinity, Jason started commuting from Houston to Dallas to attend Perkins School of Theology at SMU part-time and served as executive director of discipleship. Once he became a pastor, he helped Christ Church start the hub, a modern worship service. Jason preached weekly at this vibrant service, which saw tremendous growth in just three years.
Jason joined the pastoral staff at The Woodlands UMC in 2013 where he preached frequently in both traditional and contemporary services. At TWUMC, Jason also began writing and publishing church wide studies, which are currently available on rightnowmedia.org. He also completed his Master of Divinity in 2013 to add to his B.A., M.A. and M.Ed. An ordained elder in the United Methodist Church, Jason is currently a Ph.D. in theology candidate at the University of South Africa, writing within the fields of evangelism and missiology as a PolyCarp Community Fellow.
Jason has four precious children (Hannah, Madeline, Olivia and Brooks) who bring so much joy to his life.
To get to know Jason better, you can visit his website at www.revjasonjnelson.net
Request Prayer
If you are currently not receiving prayer requests via email and would like to receive them so you, too, can be a part of this prayer ministry from the privacy of your home or business and/or if you would like to request prayers for yourself or others please send your request to: office@rosehillumc.org. Also please include your email address with the request.